"Size" is a required field.
"Primary Colour" is a required field.
"Measurement Units" is a required field.
"Waist to Hem" is a required field.
"Around Upper Leg" is a required field.
Skort Shorts
Product ID:

SH3002
Skort Shorts
These functional all in one Shorts are designed with comfort and discretion in mind. Another feature is the fluting on the hemline that nicely creates a touch of femininity. Also, the waistline incorporates a 1 inch elastic band supporting the skirt that covers the shorts. These shorts are ideal for gym, walking, boating, tennis or any sporting activity. Finally, may we recommend matching these shorts with our Boat Neck Fluted Collar Top
Boat Neck Fluted Collar Top to complete that feminine look.
First Step (1)

Please watch this short how to Measurement Video.

Second Step (2)

Please choose your desired size & colour(s)

Then click next below...

Select Size & Colour

Important Information

Garments in this range vary in size from one style to another. To ensure you order the correct size please consult this measurement table and select the size that closely matches your measurements.

| Sizes | Units | XS | S | M | L | XL | XXL |
| --- | --- | --- | --- | --- | --- | --- | --- |
| Waist | cm | 56 | 60 | 64 | 68 | 72 | 76 |
| Hips | cm | 60 | 64 | 68 | 72 | 76 | 80 |
| Sizes | Units | XS | S | M | L | XL | XXL |
| Waist | inch | 22 | 24 | 25 | 26 | 72 | 76 |
| Hips | inch | 24 | 25 | 26 | 28 | 76 | 80 |

Should your measurements not suit this style garment, please note there are many other styles in this range to choose from with their own unique sizes that may suit you better.

Last Step (3)

Please enter the size(s) that suit your figure.

Please select your tape measurement units.

Your order will be taken in "Inches"

Your order will be taken in "Centimeters"

READY TO ORDER

Please click "

ADD TO CART

" below...

Please complete all options...
Related products
SH3003
Knee Shorts
Knee Shorts
As the name suggests, these popular shorts are designed to cover the knees. Also featuring a small elastic band around the waist as well as small splits on either side of the legs. Consequently, they are not constricting and provide plenty of stretch and room for movement. Ideal for bowling, golf and everyday lifestyle.
$

90.00
Select options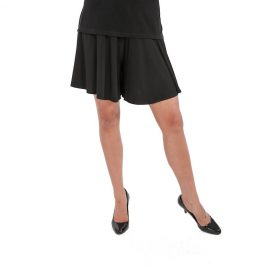 SH3001
Flared Shorts
Flared Shorts
This style of comfortable shorts gives the wearer the appearance of wearing a skirt. Also, the design allows for plenty of movement while disguising the hips. Another nice feature is the soft two inch band around the waist providing extra stretch and flexibility. Great for walking, tennis or everyday comfort.
$

95.00
Select options
T1052
Gathered Sleeve Pleated Top
Gathered Sleeve Pleated top
This generous cut top caters for the slender or fuller figured women. The fuller gathered sleeves are a feature that has a small band at the cuff. Also, down the front features subtle pleating, in addition the back has a large pleat that allows for movement. Not only but also, a fluted hem line gives a more feminine look and shoulder pads are optional.
$

150.00
Select options