Plus Size Poncho
Product ID:

T1020
Plus Size Poncho
This circular poncho can be worn in either summer or winter. At winter time, just add a turtleneck top, otherwise it's a perfect summer look. There is a stitch at either side of the bust line holding the garment in place giving it a sleeve effect. The fluted hemline which is free flowing, hangs loosely and looks fabulous over pants, skirts and swimsuits.
Second Step (2)

Please choose your desired colour

Then click next below...

Last Step (3)

Following Margo's directions in the video, please enter the size's that suit your figure.

Please select your tape measurement units.

Your order will be taken in "Inches"

Your order will be taken in "Centimeters"

READY TO ORDER

Please click "

ADD TO CART

" below...

Please complete all options...
Related products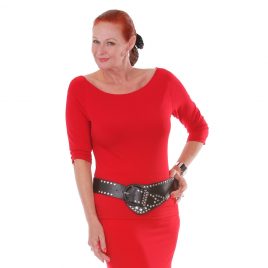 T1014
Boat Neck Fitted Top
Boat Neck Fitted Top
This fitted top is designed to embrace the sensuality of a woman's figure. The three quarter sleeve top is suitable for the slender woman because of the tighter fit. In addition, this has a boat neck feature, so it creates softness around the shoulders. Also the rubber insert around the top of the garment holds it in place.
$

140.00
Select options