Fringed Triangle Scarf
Product ID:

TRI7002
Fringed Triangle Scarf
This Triangle Scarf is available in five colours along with either black, white and mocha fringing. When matched with the Short Sleeve Dress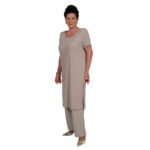 Short Sleeve Dress, this scarf definitely makes a fashion statement. Also, this very versatile scarf can be worn with many of our other outfits, as seen in the images.
First Step (1)

Please click Next to select colours.

Second Step (2)

Please choose your desired colours

Then click next below...

Last Step (3)

Following Margo's directions in the video, please enter the size's that suit your figure.

Your order will be taken in "Inches"

Your order will be taken in "Centimeters"

Scarf Fixed Length

This scarfs length is set at 173cm or 68inches

READY TO ORDER

Please click "

ADD TO CART

" below...

Please complete all options...
Related products
ISA7001
Fringed Isadora Scarf
Fringed Isadora Scarf
My popular Isadora scarf can also be purchased in five colours with black or white silk fringing. In addition, this long rectangle scarf is ideal to be worn with jackets, dresses, and a variety of tops.
$

95.00
Select options